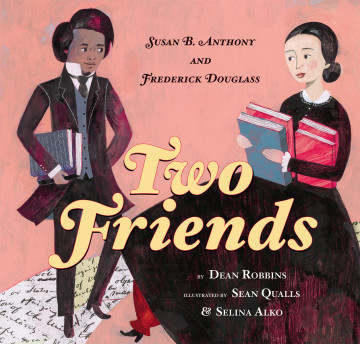 Illustrated by Sean Qualls & Selina Alko (Scholastic, January 2016)
Susan B. Anthony and Frederick Douglass lived near each other in Rochester, New York. Susan was a champion of women's rights, and Frederick a champion of African American rights. In this picture book, they meet in Susan's parlor to chat and support one another. They go out and fight for what they believe in—after taking a break for a cup of tea.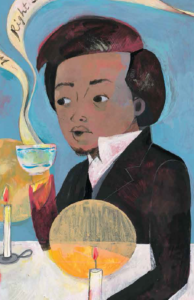 TO ORDER:
A visit by Frederick Douglass to the home of Susan B. Anthony is at the center of this charming book about the intersections of women's rights and African-American rights. Dean Robbins presents the two struggles as different but parallel — each historical figure wonders why their kind can't have 'the right to live free. The right to vote.' On a snowy afternoon, they sit down to a cozy tea-and-cake in front of a fire and promise 'to help each other' fight for justice. The husband-and-wife illustration team of Qualls and Alko blend lovely, lush painting and an elegant layer of text art, with regal streams of smudgy handwritten words and snippets of vintage print.
— New York Times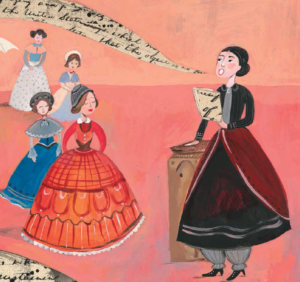 The stylish 'Two Friends' imagines the meeting between two great progressive minds of the 19th century. When writer/orator Frederick Douglass joins abolitionist Susan B. Anthony at her home for tea, he learns of her fighting an educational system that doesn't grant equal access to women, and in turn recounts the hardship of his enslaved childhood. The two activists share a goal: expanding the right to vote. Given such weighty material, 'Two Friends' is remarkably light on its feet, the composition of the pages lively and dynamic and the political figures rendered with high-beam charm.
— USA Today
In remarkably economical prose, Dean Robbins demonstrates the enormous impact Susan B. Anthony and Frederick Douglass had on history as they worked tirelessly toward their goals of securing fundamental rights for women and slaves. Bold colors lend an upbeat feel to the illustrations, while layers of paint and mixed media create subtle texture and depth.
— Booklist
A thought-provoking reverie. Stylized mixed-media art provides period detail, warmth, and inspiration.
— San Francisco Chronicle
'Two Friends' takes the time to note what the characters are wearing ("Susan wore a kind of pants called 'bloomers.' She liked them better than the heavy dresses women were supposed to wear"), wisely indulging kids' interests in both the superficial and the political.
— Chicago Sun-Times
Dean Robbins imagines the famous pair meeting at Susan B. Anthony's house one snowy evening to discuss their ideas. He also shows the parallels in their lives as they grew up to fight for equality for women and African-Americans. Husband-wife illustrators Sean Qualls and Selina Alko use bold colors with collage and script type to reflect the strong opinions of these vibrant personalities.
— St. Louis Post-Dispatch
As this picture book illustrates, Susan B. Anthony and Frederick Douglass recognized the similarities of their situations and worked together to champion one another's causes. A nice take on an important friendship between two iconic Americans.
— Salt Lake Tribune
Fascinating new history book for young readers: A tea party sounds like a sedate occasion, but these two friends who liked to meet for tea had lives that were quite the opposite. Susan B. Anthony and Frederick Douglass were both great crusaders for human rights and, as it happens, great friends. We may not know the exact words they spoke during their get-togethers in Rochester, N.Y., but Dean Robbins' debut picture book does a nice job showing what the two trailblazers had in common: 'They promised to help each other, so one day all people could have rights.' The restrained text is bolstered by boldly colored mixed-media illustrations, interwoven with scraps of manuscript.
— The Virginian-Pilot
'Two Friends' imagines what it was like when Susan B. Anthony and Frederick Douglass met at Susan's house for tea to discuss their ideas about rights and freedom. The illustrations are stunning and very cleverly incorporate collage.
— Cincinnati Enquirer
Beautifully written and illustrated.
— Winston-Salem Journal
'Two Friends' imagines Susan B. Anthony and Frederick Douglass remembering their past struggles in the face of inequality and oppression and their efforts to master public speaking and writing in support of their causes. But it also depicts them as two amiable people sitting down to tea and cake in Anthony's Madison Street home.
— Milwaukee Journal Sentinel
Notable picture book brings African American history to life for young readers.
— Tampa Bay Times
In this buoyant picture book, Dean Robbins imagines what it may have been like when two champions of freedom, abolitionist Frederick Douglass and women's rights advocate Susan B. Anthony, met for tea, cake, and conversation on a snowy day in Rochester, New York. The lyrical text briefly introduces the lives and accomplishments of these two true-life compatriots and emphasizes how both individuals dared to think differently, spoke their hearts despite opposition, and worked tirelessly to help others. Filled with bright hues and winsome touches, the endearing artwork incorporates period documents and playful text-inspired imagery to underscore the capacity of language—presented in both speeches and the written word—to transform the world.
— School Library Journal
An accessible text gives a broad picture of each civil rights leader's work; striking mixed-media and collage illustrations depict scenes from their lives. Though they fought separately for freedom and voting rights, the book captures the unifying themes of combating injustice. An informative author's note is included.
— The Horn Book
Dean Robbins' charming picture book depicts the true story of the historic friendship between two of America's greatest 19th-century civil rights pioneers. Husband-and-wife team Sean Qualls and Selina Alko's warm gouache, acrylic and colored pencil, collage-inspired artwork inventively illustrates the power of ideas. The book is an artful, cleverly crafted homage to progressive civil rights leaders as well as an inspiring story of friendship.
— Shelf Awareness
The spare text and evocative illustrations create a world where ideas and words matter and where Susan B. Anthony and Frederick Douglass, alternately scorned and revered by the public, come together for a quiet moment. Dean Robbins succeeds beautifully at creating a mood, and we get the sense that these two fiery figures found strength and renewal in each other's presence. The masterful illustrations by husband-wife team Sean Qualls and Selina Alko capture the setting and the warmth and energy of the two characters.
— Isthmus
The book tackles big issues like racism in an engaging and simple way that will inspire the next generation of civil rights activists.
— Today's Parent
Dean Robbins deftly moves between Susan B. Anthony's objectives and words to those of Frederick Douglass. The full-bleed artwork is embellished with swirls of script from their respective writings, a plus for both artistic presentation and content.
— Kirkus Reviews
A visually appealing primer on the civil rights reformers.
— Publishers Weekly
Sean Qualls and Selina Alko's beautifully composed mixed media illustrations and Dean Robbins' lyrical text tell the story of the friendship of two famous American civil rights activists, Susan B. Anthony and Frederick Douglass, who came together to share cups of tea and ideas in Rochester, New York, in the mid-1800s. Cutout collages of handwritten words on the double spreads emphasize their tireless efforts in speaking out for a shared goal, that one day all people would have the same rights.
— International Literacy Association
One of the many strengths of the book is that it works for very young readers as an introduction to two important figures from American history, and it's effective for older students learning about civil rights and the power of words. 'Two Friends' would make an excellent read aloud for small or large groups and is a recommended purchase for school and public library collections.
— The Nonfiction Detectives
Children who are learning about civil rights could surely use this primer about two of the movement's huge icons: Susan B. Anthony and Frederick Douglass. Dean Robbins excels at including both individuals' biographic information while simultaneously sharing their thoughts on civil rights. The story is intricately woven to capture the essence of life in the late 1800s. The engaging illustrations keep children entertained and wanting to know more.
— Kansas City Parent Magazine
Presenting concepts such as freedom and the right to vote within their historical context is not an easy task to accomplish in a book for young readers. Here, however, pictures and text work hand in hand, and the result is highly successful. At the end of the book, when Anthony and Douglass state, 'So many speeches to give. So many articles to write. So many minds to change,' readers will understand that words, thoughts, and ideas are crucial to reform.
— Children's Literature
Book of the Day, January 18, 2016
— Junior Library Guild
'Two Friends' strikes just the right balance of informational and inspirational, connecting the struggles of women and black Americans to achieve equal rights under the law. The book deftly introduces the history of slavery, suffrage, and civil rights movements in ways young children can easily understand. It is the kind of book that helps build children with compassion, children able to see the inner similarities between people outwardly different, children who realize that doing what is right can be a long, hard struggle.
— All the Wonders
What did two of history's most eloquent defenders of rights, Susan B. Anthony and Frederick Douglass, discuss during tea in Rochester, New York? Dean Robbins takes us on a journey into the lives of these American icons, who helped changed how we think about African Americans and women. Robbins invites us into Anthony's world, then Douglass', perfectly weaving together the two stories.
— Council for Wisconsin Writers
Perfect for beginning a dialogue with first graders on up about both women's rights and civil rights. A good starting point for a more serious delving into these topics and this historic period.
— Pima County Public Library
A very simple and engaging introduction to two important figures in history and their efforts for equal rights. There are good messages of cooperation and doing what you think is right.
— Provo Library
The perfect bridge between Black History Month and Women's History Month.
— Heathcote Library
A beautiful homage to the friendship of Susan B. Anthony and Frederick Douglass.
— Wisconsin Public Radio
A delightful book.
— Milwaukee Public Radio
The illustrations are stunning and very cleverly incorporate the use of collage.
— Kenton County Public Library
The text serves an an introduction to both Susan B. Anthony and Frederick Douglass as people and as change agents in American history. Mixed-media illustrations are at once playfully inventive and historically respectful.
— Cooperative Children's Book Center
'Two Friends' visits a fascinating corner of 19th century American history, when slavery still gripped the nation and when women hadn't yet won the right to vote. It's a delightful surprise to learn that by candlelight, over tea and cake, Susan B. Anthony and Frederick Douglass imagined what change might look like and feel like and what it might take. Two Friends reminds us that at the heart of any kind of change we will find friendship and shared dreams.
— Girls of Summer
Book of the Day, March 19, 2016
— Washington, D.C., Public Library
'Two Friends' is an inspiring new picture book about the friendship between Susan B. Anthony and Frederick Douglass. It's told in such an immediate way that the reader is drawn right into the lives of these two legendary figures as they have tea together…stunningly perfect in text and illustrations. 'Two Friends' is simple enough for a small child to understand, and a wonderful conversation prompter about the important contributions of both these great people. I can think of no better picture book published recently that would be more important to add to your child's library.
— Good Reads with Ronna
The perfect book for teachers to read to a classroom of students between first and fourth grade to spark a discussion about commitment and dedication to a cause. The illustrations of the two leaders convey their passion and their willingness to do whatever it took to change minds.
— Sommer Reading
'Two Friends' is a wonderful read aloud for young kids just beginning to learn American history.
— Randomly Reading
Editor's Choice: Essential Children's Books for January 2016. An excellent historical narrative. I love that it shows Susan B. Anthony and Frederick Douglass supporting each other's causes as much as their own, and that their writings are lovingly incorporated into the illustrations.
— Riffle
Here is a book perfectly timed for this election year, about two fighters for equal rights. The illustrations are realistic with bold color, with some background parts showing swirls of words surrounding Susan B. Anthony and Frederick Douglass. There are parts of the Constitution and the speeches and articles each wrote. The book can start many conversations about Anthony and Douglas, what they did, how they fought for the rights we all now have.
— Teacher Dance
'Two Friends' is a gorgeous book. The illustrations are eye-catching and beautiful, and the text provides a wonderful introduction to important debates we have had throughout our history. While it does not sugarcoat the issues of injustice, it is simple enough for very young children to understand. Older children will almost certainly have some questions about the text: Why couldn't Susan learn what boys learned? Why couldn't Frederick vote? Those questions will open the door for parents to begin explaining important issues in ways that children can understand.
— Covered in Flour
This picture book for young readers is a terrific jumping-off point for people of any age to learn about two iconic 19th century Americans famous for their unceasing activism.
— New Mexico Review of Books
Beautifully written in a perceptive, parallel structure, with Sean Qualls and Selina Alko's vibrant illustrations incorporating text and image, 'Two Friends' offers a unique perspective on Susan B. Anthony and Frederick Douglass and their friendship. Highly recommended for ages 4 and up.
— Orange Marmalade Books
Text is an intrinsic and important part of the art: Ideas percolate in the tea and rise into the air. Beliefs become an integral part of clothing and are worn for all to view.
— Reading Style Guide
Exceptional nonfiction book for kids. A fascinating glimpse of two activists who are both fighting for their rights—one for women and one for African Americans.
— Imagination Soup
Awesome nonfiction book for kids: This is a great introduction for the youngest readers, and the care with which it was illustrated is very evident. A beautiful book.
— Literary Hoots
This is a phenomenal book for young children to learn about two friends concerned with the right to vote, and the right to be free.
— Teachers Pay Teachers
Employing paint, colored pencils, and collage, Sean Qualls and Selina Alko incorporate the words of Frederick Douglass and Susan B. Anthony into folk-art-like pictures rendered in bold colors; for example, Anthony's words appear on the bloomers she is wearing. Other snippets of words soar across the pages and spread over the sidewalks, much as their rhetoric soared above the halls in which they delivered speeches and spread throughout the country. The imaginative collages even include pieces of vintage print, embedded into other images. This book will provide a good introduction to young people of earlier movements for rights.
— Rhapsody in Books
An interesting introduction to two important 19th century activists whose civil rights struggles are still relevant today. The colorful folk-artsy illustrations nicely portray Susan B. Anthony, Frederick Douglass, and their homes in Rochester.
— A Kids Book a Day
The issue of race has always been a complex and sensitive subject. If you are looking for age-appropriate ways to talk to your children about race relations in this country, you may need to enlist the help of children's books [like "Two Friends"].
— Romper
An excellent entry point to Susan B. Anthony and Frederick Douglass. Stunning artwork…a great addition to any collection.
— Miss Print
Did you know that Susan B. Anthony and Frederick Douglass occasionally met to share ideas about establishing equal rights for women and African-Americans? Dean Robbins' intriguing story structure compares these two extremely brave people.
— BookPagez
Five stars: Susan B. Anthony and Frederick Douglass met in the mid-1800s and became friends, fighting for a common cause—equal rights. Beautiful illustrations and the historical information provided make this book a must-read.
— Granite School District, Salt Lake City
Film adaptation: Intended for viewers ages 4-8, 'Two Friends: Susan B. Anthony and Frederick Douglass' is the DVD adaptation (with voiced narration and music) of a children's picture book about Susan B. Anthony, champion of woman's rights and women's suffrage, and African-American social reformer and abolitionist Frederick Douglass. It imagines a get-together in which Anthony and Douglass share stories of their respective battles for human equality. Gentle and inspiring, 'Two Friends' is highly recommended, especially for homeroom viewing and elementary school or public library children's DVD collections.
— Midwest Book Review
Film adaptation: Narrator Dion Graham depicts the scene as a tea service is being set out. Susan B. Anthony welcomes Frederick Douglass, and together they begin a conversation. Graham sounds conversational himself, gently offering details about these two famous people. Anthony is eager to learn about important subjects as boys do, teaches herself to give speeches, and prefers wearing bloomers to dresses. Douglass is enthusiastic to learn to read and write, thrills at encountering new ideas, and publishes his own newspaper. Graham's clear voice and leisurely pacing make clear Anthony and Douglass' conviction that all people have the right to vote and to live freely. Quiet music, speeches, and crowd response add to the narration, and an author's note completes the production.
— AudioFile