Two Friends: Susan B. Anthony and Frederick Douglass
Reviews
New York Times
"A visit by Frederick Douglass to the home of Susan B. Anthony is at the center of this charming book about the intersection of women's rights and African-American rights. The husband-and-wife illustration team of Qualls and Alko blend lovely, lush painting and an elegant layer of text art, with regal streams of smudgy handwritten words and snippets of vintage print." Read more.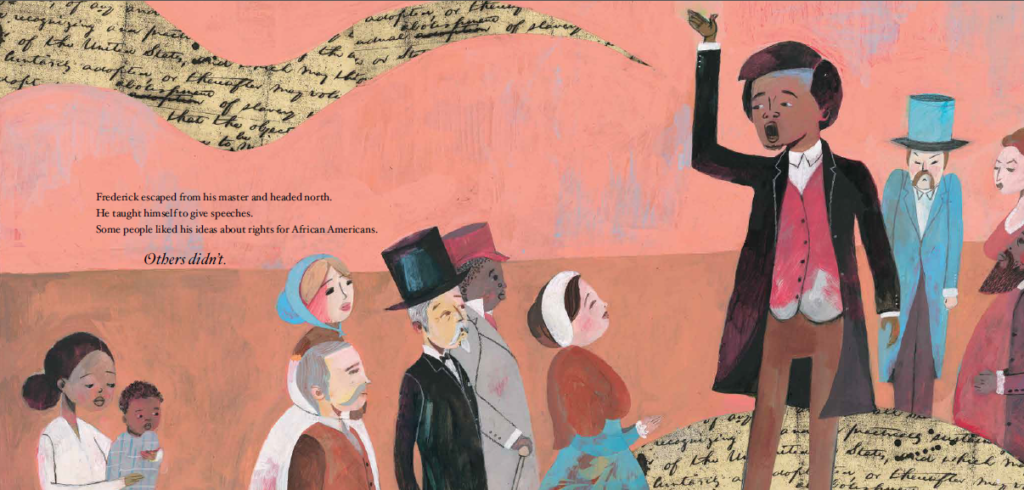 USA Today
"Two Friends is remarkably light on its feet, the composition of the pages lively and dynamic and the political figures rendered with high-beam charm." Read more.
San Francisco Chronicle
"A thought-provoking reverie. Stylized mixed-media art provides period detail, warmth, and inspiration." Read more.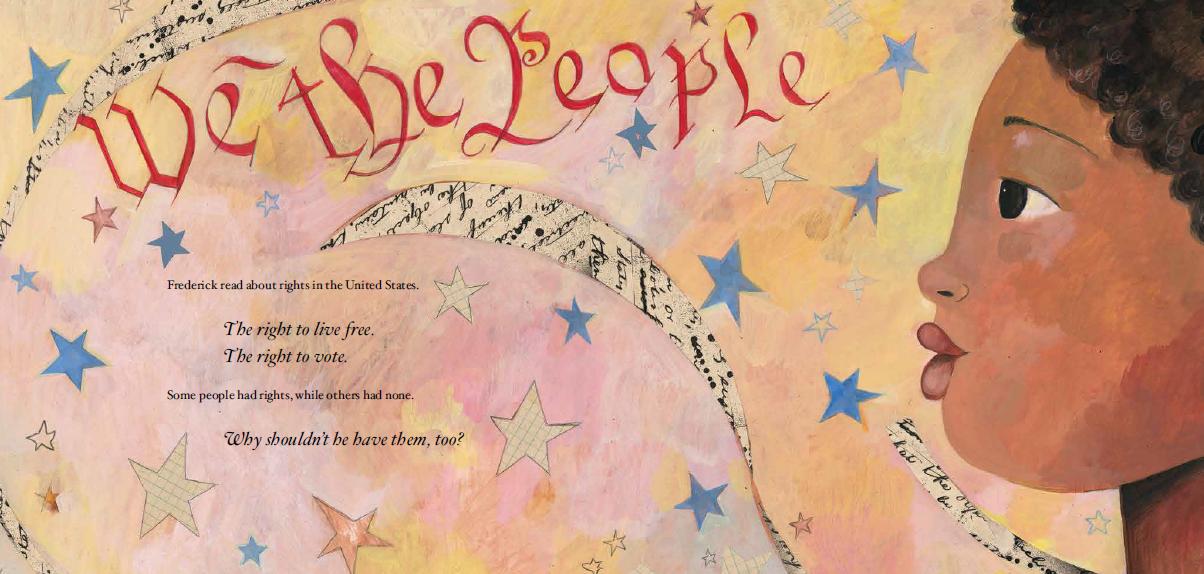 School Library Journal
"Repeated phrases eloquently underscore the parallels between their lives, emphasizing how both Susan B. Anthony and Frederick Douglass dared to think differently, spoke their hearts despite opposition, and worked tirelessly for a better world. Set against handsomely textured backgrounds, Sean Qualls and Selina Alko's mixed-media paintings blend historical details with winsome touches." Read more.
All the Wonders
'Two Friends' strikes just the right balance of informational and inspirational, connecting the struggles of women and black Americans to achieve equal rights under the law. The book deftly introduces the history of slavery, suffrage, and civil rights movements in ways young children can easily understand. It is the kind of book that helps build children with compassion, children able to see the inner similarities between people outwardly different, children who realize that doing what is right can be a long, hard struggle." Read more.
Shelf Awareness
"Dean Robbins' charming picture book depicts the true story of the historic friendship between two of America's greatest 19th-century civil rights pioneers. Husband-and-wife team Sean Qualls and Selina Alko's warm gouache, acrylic and colored pencil, collage-inspired artwork inventively illustrates the power of ideas. The book is an artful, cleverly crafted homage to progressive civil rights leaders as well as an inspiring story of friendship." Read more.
Interviews 
National Public Radio
An interview on "Two the Best of Our Knowledge," with a reading from the book. Listen here.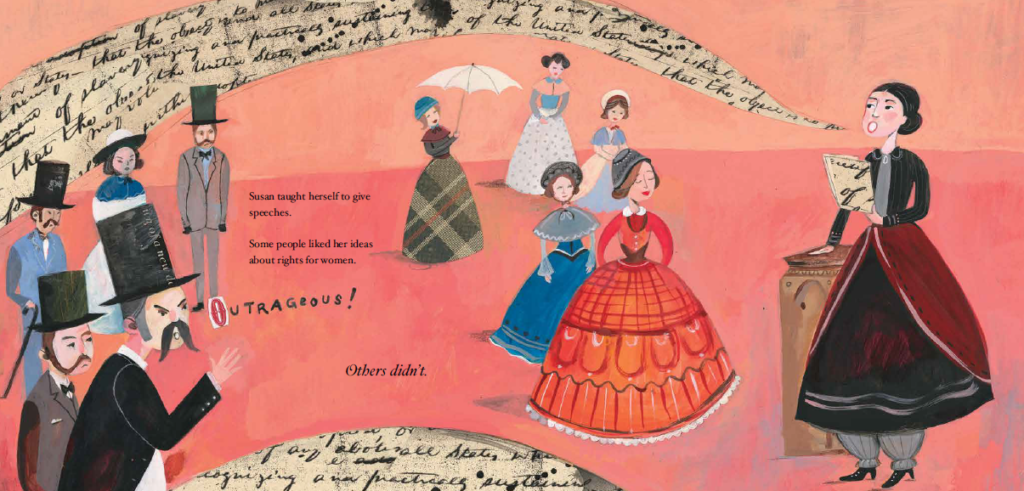 Milwaukee Public Radio
An interview on "Lake Effect." Listen here.
Wisconsin Public Radio
An interview on "Central Time." Listen here.
Isthmus
"The spare text and evocative illustrations create a world where ideas and words matter and where Susan B. Anthony and Frederick Douglass, alternately scorned and revered by the public, come together for a quiet moment. Dean Robbins succeeds beautifully at creating a mood, and we get the sense that these two fiery figures found strength and renewal in each other's presence. The masterful illustrations by husband-wife team Sean Qualls and Selina Alko capture the setting and the warmth and energy of the two characters." Read more.
International Literacy Association
"It's important that children learn about Susan B. Anthony and Frederick Douglass at an early age, but concepts like abolition and women's suffrage can be difficult to explain to elementary school students. That's why I liked the idea of a tea party. If kids have a hard time grasping 150-year-old political issues, I know they can relate to two friends coming together for the grown-up version of a playdate." Read more.
News
2017 Amelia Bloomer List
The Amelia Bloomer List is a project of the American Library Association. It compiles a list of notable feminist literature for people from birth to age eighteen. Two Friends: Susan B. Anthony and Frederick Douglass is one of 22 early readers chosen for the 2017 list. Read more.
Isthmus
"Jane Hamilton, Kevin Henkes, Dean Robbins, and Laura Dronzek are four friends with books out at the same time. They celebrate the happy coincidence with a literary party." Read more.
Missourian
"The East Central College Social Justice Committee and Neighbors United Undoing Racism have teamed up for a new 'Stories Matter' campaign to provide books with diverse themes and ideas to libraries, including Two Friends: Susan B. Anthony and Frederick Douglass." Read more.
Miss Paul and the President: The Creative Campaign for Women's Right to Vote
Reviews
School Library Journal
"This picture book biography introduces young readers to Alice Paul, the suffragist and women's rights activist. Readers will learn of Paul's fierce efforts to win the right to vote for women, including putting together a parade in Washington, D.C., that upstaged the incoming president, Woodrow Wilson; organizing protesters outside the White House; and directly confronting President Wilson on the matter of women's suffrage. The author connects these efforts ("making mischief") to Paul's wild youth, a time when she sneaked candy, chased chickens, and threw mud balls. Watercolor and color pencil illustrations support this spirited view with lively movement and color as she is shown leading a parade of 8,000 women, sitting in President Wilson's office and looking him right in the eye, protesting outside the White House gate, and even being hauled off to jail by the police for refusing to leave the grounds. This is an engaging introduction to an important and often neglected historical figure." –Della Farrell Read more.
"In accessible language, Dean Robbins explains how Alice Paul drew attention to women's suffrage by staging an elaborate parade in front of the White House, going to prison for the cause, and meeting with President Wilson to garner his support. While the focus of the narrative is on Paul's work, Robbins weaves in illuminating vignettes about her childhood, including how watching her father go off to vote while her mother stayed at home fed Paul's growing sense of injustice. Nancy Zhang creates a picture of early 1900s America that is both stylized and elegant, featuring elongated lines and curves and bold colors. A perfect introduction to a notable woman and her fight for a woman's right to vote." –Jennifer Prince Read more.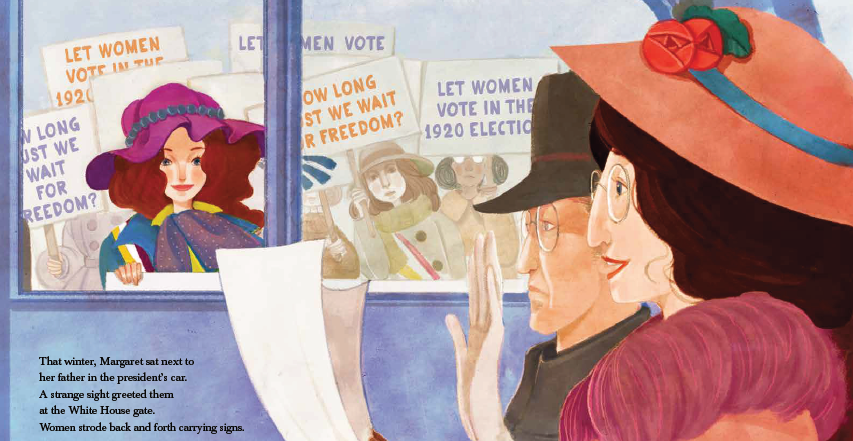 Providence Journal
"What turns a farm girl into a successful political leader? The large, colorful pictures and buoyant text depict Alice Paul's path and celebrate the suffragists' success in finally winning the vote. An inspiring story for young activists, feminists, and history buffs." Read more.
Kirkus Reviews
"In time for the national elections, the story of an ardent early-20th-century fighter for women's suffrage. The simple narrative ably explains and arouses respect for Alice Paul's ardor and achievements. The cheery, cartoony illustrations, created in watercolor, colored pencil, and other media, show Paul in her signature floppy purple hat. Endpapers feature illustrated newspaper headlines that set events in context. Useful for discussions about women's rights and political influence." Read more.
Shelf Awareness
"This lively, well-paced, dynamically illustrated picture-book biography tells of Alice Paul's women's suffrage parade, her meeting with President Woodrow Wilson, her founding of the National Woman's Party, and her clever brand of mischief-making that landed her in jail but helped get the job done in time for the 1920 election." Read more.
Bulletin of the Center for Children's Books
"Dean Robbins makes clear for a quite young audience through both main narration and endnote that there were very specific obstacles that had to be overcome to extend the vote to women (Congressional action, and the ratification of a Constitutional Amendment), and winning the endorsement of the president was a vital first step. Librarians and educators seeking accessible materials to draw pre-primary children into election year topics will want to consider this." Read more.
 Interviews 
Wisconsin State Journal
"Dean Robbins is developing a reputation as a writer of vibrant biographical stories for young children. In Miss Paul and the President, he finds a way to bring the buoyant, determined and charming Alice Paul to life. Illustrator Nancy Zhang gives the main character a joyful presence in her signature purple hat." Read more.
Book Q&A's with Deborah Kalb
"Alice Paul waged a six-year campaign to convince President Woodrow Wilson, Congress, and the American public to support women's suffrage in an age when women weren't considered smart or sophisticated enough to trust with the vote. She planned parades, petitions, and protests to keep the issue front and center. Most famously, she organized the first picketing of the White House. In other words, she creatively exercised her First Amendment rights." Read more.
Op-ed 
USA Today
"The key to introducing young children to Alice Paul is to portray her as a kind of Wonder Woman, wearing her trademark purple hat instead of a tiara. It's no stretch to see Paul that way, given her quixotic battle against the villains who opposed women's suffrage. She used a U.S. citizen's superpower—freedom of speech—to thwart the politicians arrayed against equality." Read more.
News 
2017 Notable Social Studies Trade Books for Young People
Notable Social Studies Trade Books for Young People is an annual reading list of exceptional books for use in social studies classrooms, selected by social studies educators. Miss Paul and the President: The Creative Campaign for Women's Right to Vote has been chosen for the 2017 list. Read more.
Margaret and the Moon: How Margaret Hamilton Saved the First Lunar Landing

Reviews
Publishers Weekly
Starred review: "Beginning with Margaret Hamilton's early life as a curious girl who questioned (and studied) everything, Dean Robbins moves briskly through her career path, from teaching herself how to write computer code to assisting with the 1969 moon landing and other NASA missions. Lucy Knisley's crisp cartooning approaches Hamilton's story with reverence for her accomplishments, as well as humor. As the contributions of women in STEM fields gain increased attention and appreciation, Robbins and Knisley deliver an inspiring tribute to a true innovator." Read more.
Kirkus Reviews
Starred review: "Dean Robbins successfully translates a complicated subject into an engaging text, with just the right amount of scientific information for young readers. Lucy Knisley's cartoonish illustrations perfectly capture Margaret's inquisitive spirit while keeping the story light and child-friendly. A superb introduction to the life of one girl whose dreams were out of this world." Read more.
Smithsonian Air & Space magazine
Best Children's Books of 2017: "Young readers are sure to be engrossed by the story of NASA's Margaret Hamilton, who helped develop the on-board flight software for the Apollo space program." Read more.
Women You Should Know
"Margaret and the Moon tells a crucial hidden story, and does it with wonder and elegance that fit well with the hard-working quiet heroism of its protagonist. The author, Dean Robbins, and illustrator, Lucy Knisley, have found a lovely balance of word and image marching together to achieve precisely the right effect at all times. Robbins' voice is simple and unaffected, with a delightful ability to move from the scale of the cosmic to the confines of the lone problem solver without feeling out of place in either." Read more.
A Mighty Girl
"Dean Robbins beautifully depicts the spirit of curiosity that drove computer scientist Margaret Hamilton to success. Robbins highlights the challenges that faced her as a woman in STEM during the middle of the 20th century, but also the determination and talent she offered the space program at a critical point in its development. Illustrations by Lucy Knisley are full of fun details and visual jokes, and also capture the wonders of the night sky." Read more.
Librarian's Quest
"Each concise sentence by Dean Robbins compels us to read the next one. His narrative unfolds almost like a mathematical equation, which is ingenious writing. Robbins has selected those things about Margaret Hamilton that increase our admiration for her accomplishments with every page turn. His repetition of certain key phrases generates a gentle storytelling rhythm. 'Margaret and the Moon' will promote further investigation about Margaret Hamilton; this is the beauty of a well-written nonfiction picture book." Read more.
BookPage
"Young readers will love Margaret, with her oversize glasses and can-do attitude. This is a standout tribute to a brilliant, brave female who was unafraid to test the boundaries of her own intelligence and who was awarded in 2016 the Presidential Medal of Freedom." Read more.
Interviews
Space.com
"Margaret Hamilton told me wonderful stories that no one had ever reported, starting with her love of problem-solving as a child. From an early age, she felt the unfairness of a world in which women had fewer opportunities than men, and she resolved to set things right." Read more.
WISC-TV (CBS)
"If the name Margaret Hamilton doesn't ring a bell, you're not the only one in the dark. But a new children's book is shedding some light on the little-known hero." Watch the broadcast at the newscast's 14:20 mark.
Capital Times
"As a longtime Madison journalist, Dean Robbins loved to chase down a good story. Even though his journalism career ended when he stepped down as editor of Isthmus in 2014, he still chases good stories. But now they have fewer words and a lot more pictures. Robbins has a new career as a children's book author, turning true-life tales into colorful books that young readers can enjoy." Read more.
Milwaukee Public Radio
An interview on "Lake Effect." Listen here.