Two Friends: Susan B. Anthony and Frederick Douglass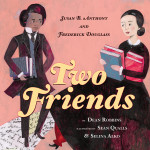 Illustrated by Sean Qualls & Selina Alko (Scholastic, January 2016)
Susan B. Anthony and Frederick Douglass lived near each other in Rochester, New York. Susan was a champion of women's rights and Frederick a champion of African American rights. In this picture book, they meet in Susan's parlor to chat and support one another. They go out and fight for what they believe in — after taking a break for a cup of tea.
---
Miss Paul and the President: The Creative Campaign for Women's Right to Vote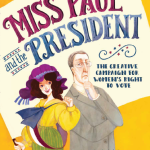 Illustrated by Nancy Zhang (Knopf, September 2016)
In the 1910s, Alice Paul had loads of creative ideas for convincing President Woodrow Wilson to support voting rights for women. She organized a fancy parade, a letter-writing campaign, a train tour, and a demonstration at the White House gate, all designed to get the president's attention. He finally came around to supporting the vote for women — with a bit of help from his own daughter!
---
Margaret and the Moon: How Margaret Hamilton Saved the First Lunar Landing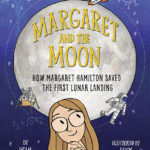 Illustrated by Lucy Knisley (Knopf, May 2017)
Margaret Hamilton always had a knack for solving problems. Then she discovered a new invention called a computer and used it to solve one of the hardest problems ever — flying people to the moon! When an astronaut flips the wrong switch on the Apollo 11 mission, it's up to Margaret's brilliant computer programming to save the first lunar landing. Meet the pioneering scientist who broke boundaries for women and became a hero of the United States space program.