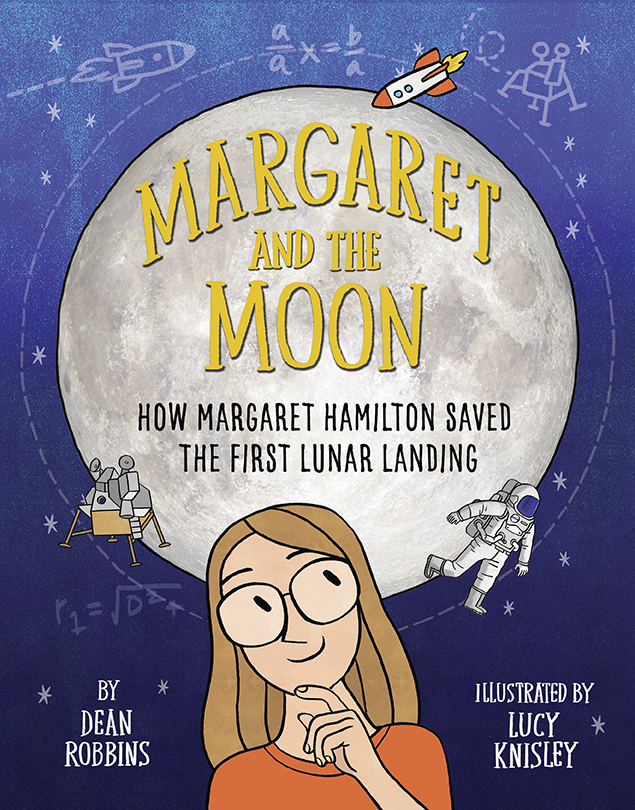 Illustrated by Lucy Knisley (Knopf, May 2017)
Margaret Hamilton grew up wondering why the stars shone and how the planets moved. She threw herself into mathematics to find answers to her questions, then discovered a whole new way to understand the universe: computers! Working with the United States space program, Margaret used this amazing new invention to get astronauts all the way to the moon. And when the first lunar landing went haywire, her brilliant computer programming saved the day.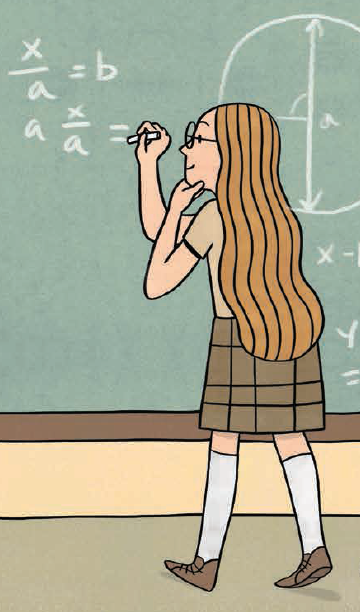 TO ORDER:
Starred review: Beginning with Margaret Hamilton's early life as a curious girl who questioned (and studied) everything, Dean Robbins moves briskly through her career path, from teaching herself how to write computer code to assisting with the 1969 moon landing and other NASA missions. Lucy Knisley's crisp cartooning approaches Hamilton's story with reverence for her accomplishments, as well as humor. As the contributions of women in STEM fields gain increased attention and appreciation, Robbins and Knisley deliver an inspiring tribute to a true innovator.
— Publishers Weekly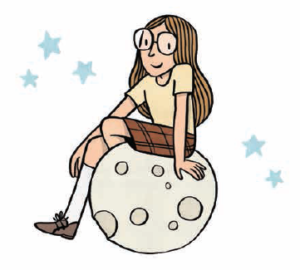 Starred review: Dean Robbins successfully translates a complicated subject into an engaging text, with just the right amount of scientific information for young readers. Lucy Knisley's cartoonish illustrations perfectly capture Margaret's inquisitive spirit while keeping the story light and child-friendly. A superb introduction to the life of one girl whose dreams were out of this world.
— Kirkus Reviews
Best Children's Books of 2017: Young readers are sure to be engrossed by the story of NASA's Margaret Hamilton, who helped develop the on-board flight software for the Apollo space program, and whose navigation software helped the Apollo 11 astronauts avert an abort of their moon landing.
— Smithsonian Air & Space Magazine
Highly recommended: Dean Robbins beautifully depicts the spirit of curiosity that drove computer scientist Margaret Hamilton to success. Robbins highlights the challenges that faced her as a woman in STEM during the middle of the 20th century, but also the determination and talent she offered the space program at a critical point in its development. Illustrations by Lucy Knisley are full of fun details and visual jokes, and also capture the wonders of the night sky.
— A Mighty Girl
Starred review: Margaret Hamilton was the first scientist to call herself a software engineer. Her important contributions to space travel, especially the Apollo 11 mission, are recounted for the youngest readers in this engaging picture book biography. Short declarative sentences and bright, simple illustrations give readers a picture of girl who was always curious to know more about her world, and was determined to find out the answers herself.
— Youth Services Book Review
'Margaret and the Moon' tells a crucial hidden story, and does it with wonder and elegance that fit well with the hard-working quiet heroism of its protagonist. The author, Dean Robbins, and illustrator, Lucy Knisley, have found a lovely balance of word and image marching together to achieve precisely the right effect at all times. Robbins' voice is simple and unaffected, with a delightful ability to move from the scale of the cosmic to the confines of the lone problem solver without feeling out of place in either. Margaret Hamilton was a great programmer, but more than that, as 'Margaret and the Moon' brings beautifully to life, she was a person who loved the challenge of pondering and preparing for all the possibilities that reality can throw at our beleaguered species, a creator of plans and counter-plans, an organizer and a completionist. We all know a kid like that, and now it's up to you to find that kid and put this book in her hands. The world will be glad that you did.
— Women You Should Know
Entertaining and illuminating, this book has many curricular connections, including space travel, women's history, inventions, and coding. Cartoon-style illustrations add a sense of levity, making Margaret Hamilton's complex jobs accessible and appealing to a young audience. The author was able to interview Hamilton, and an informative note explains more about her life and career.
— School Library Journal
The thrilling story of the woman who made the Apollo 11 mission possible. Lucy Knisley's bold, vibrant illustrations feature shimmering night-sky constellations, clunky, old-school computers and super-duper spacecraft. Young readers will love Margaret, with her oversize glasses and can-do attitude. This is a standout tribute to a brilliant, brave female who was unafraid to test the boundaries of her own intelligence and who was awarded in 2016 the Presidential Medal of Freedom.
— BookPage
Dean Robbins tells the story of pioneering software engineer Margaret Hamilton, whose programs helped NASA land astronauts on the moon. In Lucy Knisely's genial, cartoonish illustrations, young Margaret gazes, wide-eyed, at constellation-filled skies and zips around with a pale yellow moon, nicely visualizing the boundlessness of her aspirations. A worthy addition to collections of picture-book biographies of scientists.
— Booklist
A must-read for strong girls and those who love and support them.
— Kids' Indie Next List
Computer science doesn't come immediately to mind as a rich field from which children's literature might grow, and yet Dean Robbins and Lucy Knisley deftly tell a story that is at once moving and exciting. It is a testament to the skill of the author and illustrator that the book will be for many readers the first biography they ever read, an early introduction to the Apollo program, and an inspiring story of how science and engineering are done—and the book excels at all three.
— NOW.SPACE
A wonderful tribute to an ambitious and brilliant woman and a great inspirational read for kids who want to get into the sciences.
— Parent.Co
Dean Robbins and Lucy Knisley deliver a lovely portrayal of a pioneer in her field who never stopped reaching for the stars.
— Children's Book Review
An engaging text and cartoon illustrations make this life story of Margaret Hamilton accessible to young readers.
— International Literary Association
This is one of those wonderful books that presents as a picture book for young children but which has plenty to teach older readers. It's a succinct biography of the pioneering software engineer whose code enabled the success of the lunar landings. Along the way, it even manages to deliver terse summaries of different branches of mathematics.
— The Planetary Society
Each concise sentence by Dean Robbins compels us to read the next one. His narrative unfolds almost like a mathematical equation, which is ingenious writing. Robbins has selected those things about Margaret Hamilton that increase our admiration for her accomplishments with every page turn. His repetition of certain key phrases generates a gentle storytelling rhythm. 'Margaret and the Moon' will promote further investigation about Margaret Hamilton; this is the beauty of a well-written nonfiction picture book.
— Librarian's Quest
Margaret Hamilton's story is complicated, and Dean Robbins does a great job distilling everything down into simple sentences that are easily understood. He has a theme–wonder–that carries through the book and holds everything together. This book should appeal to kids who like solving problems, those who wonder themselves, and those who hope to do big things.
— Picture Book Builders
Margaret Hamilton's passion for math brought her to MIT and NASA, where she helped to put a man on the moon. The fun and usefulness of computer science are evident in this beautifully illustrated biography that will inspire any child to cultivate a vision and see the power of math to solve problems.
— Brightly
Spring 2017's Best Children's Books: 'Margaret and the Moon' belongs in the hands of young dreamers everywhere.
— Bookish
With excellent examples from Margaret Hamilton's childhood and adult life, Dean Robbins presents an accessible and compelling biography that reveals her curiosity, confidence, and convictions. Robbins' focus on Margaret's hard work, her excitement at discovering computers, and her leadership at NASA creates a narrative that is inspirational for all children. Lucy Knisley's images of mathematical problems give way to lines of code, helping children see the connection between what they're learning at school and future careers. For kids interested in science, biographies, and history, 'Margaret and the Moon' is an excellent addition to home as well as classroom and school libraries.
— Celebrate Picture Books
Simple text and friendly, cartoonish illustrations tell the true story of Margaret Hamilton's accomplishments in a big-hearted, accessible way with an emphasis on process and learning.
— Deschutes Public Library
Margaret Hamilton's math skills were extremely important when NASA was planning the first trip to the moon. This is a great book to read if you enjoy math and science and want to learn more about how to use those in the future.
— Mount Prospect Public Library
Dean Robbins keeps the tone playful and light, showing the hard work behind Margaret Hamilton's accomplishments and her inquisitive nature as the keys to her success. A wonderful example of women in STEM, this picture book speaks to the power of brains and determination.
— Waking Brain Cells
The moon landing would never have been possible without leading woman Margaret Hamilton's longstanding contributions to the Apollo project. Margaret and the Moon explores the childhood of one of the world's greatest computer coders and is a great feminist read for little ones with an interest in math, science, and space travel.
— Culture Whisper
A fun story about a woman who pioneered computer programming and played an important role in the space program. The text is engagingly conversational, and the graphic novel-style illustrations make it kid-friendly.
— A Kids Book a Day
Margaret Hamilton loved to solve all kinds of problems, coming up with original ideas. She wondered why more girls didn't grow up to be doctors or scientists, so she studied hard and finally convinced NASA to use her software programs to get astronauts to the moon and back. Cartoon illustrations complement the conversational text in this empowering sketch.
— Reading Rockets
A lively illustrated biography of Margaret Hamilton, introducing young readers to a story about smart girls and science.
— Isthmus
This book celebrates Margaret Hamilton's smarts in a way that kids can understand. It shows her as a little girl who loved numbers, math, and asking questions. Then it follows her as she begins to solve problems and explore the world of coding. It's a wonderful tribute to an ambitious and brilliant woman and is a great inspirational read for kids who want to get into the sciences. Cheers to learning to be a nerd in a whole new way.
— The Mom Gene
Dean Robbins has done a fantastic job in this engaging picture book biography about an inquisitive woman who wrote code for the computer commands on the Apollo missions. Lucy Knisley's illustrations perfectly complement the text, offering an element of excitement. This is an excellent addition to science collections.
— Nonfiction Detectives
A perfect combination of text and pictures for a dynamic read-aloud for elementary students.
— Kiss the Book
An interesting biography told with just enough detail to make it accessible and interesting for elementary readers. Margaret Hamilton's story shows the importance of hard work and problem solving.
— Literacy on the Mind
For years, we've heard all about the male astronauts, and we've seen photos of the mission control men, with their buzz cuts and headsets. Fortunately, with movies like 'Hidden Figures' and books like 'Margaret and the Moon,' the stories of mathematically inclined women are being told. This would be a good book to read to a group of children before they try their own coding activities.
— HubPages
"Margaret and the Moon" is a perfect balance of fun and informative. It's also a perfect beginning to any STEM project involving the moon. I'm excited to add this book to the list of must-haves for my classroom.
— Picture Books for Learning
The humor and information in 'Margaret and the Moon' make it a must-read for young people that fills in missing information about the space program a half-century ago, especially in its encouragement for girls to pursue careers in science.
— Oregon Coast Youth Book Preview Center
An adorable history book that checks off all my must-read boxes: science, early NASA, cute illustrations, '60s fashion.
— Homeschooling Now
An excellent addition for libraries and classrooms.
— Comics Worth Reading
An example of the best in picture-book biographies. Dean Robbins provides a thoughtful and inspiring text, and Lucy Knisley's winsome illustrations are just right for the young audience.
— Fiction Addiction
Sometimes heroes wear pencil skirts and oversize eyeglasses. This biography will make everyone wish to be superstar NASA computer programmers.
— We Are Teachers
Dean Robbins tells Margaret Hamilton's story with a light touch, while Lucy Knisley's comic-style pictures provide more in-depth representations of some of the math for those who look a little deeper. In a time when coding is becoming an integral part of the standard curriculum, an appealing story featuring code can be a worthwhile addition to a home, library, or classroom collection.
— What's Not Wrong?
The text is brisk and simple, giving enough context for readers. It creates a relatable story with simple explanations of math and science and Margaret Hamilton's work. Hamilton is shown as an ordinary girl who's interested in the world around her and works hard to explore, learn, and dream.
— Jean Little Library
This accessible picture book biography tells the story of mathematician Margaret Hamilton, who hand-wrote the code that would allow a spaceship's computer to solve unexpected problems. The cartoon-like illustrations add humor while celebrating her accomplishments.
— Bookworm for Kids
A book about women in science with fantastic illustrations and a good story.
— Everyday Reading
An inspirational picture-book biography that will inspire young readers to shoot for the moon.
— Sommer Reading
A fun read for kids who like thinking outside the box and challenging stereotypes.
— Liowabrary
Margaret Hamilton was a curious child whose hard work made her a pioneer in the NASA space program. This is a very interesting biography that will prove inspiring to all readers and includes actual photos of the subject.
— Reading in Action, Fresno County Office of Education
An inspiring and entertaining comic book tale of a real-life superhero.
— Rhapsody in Books