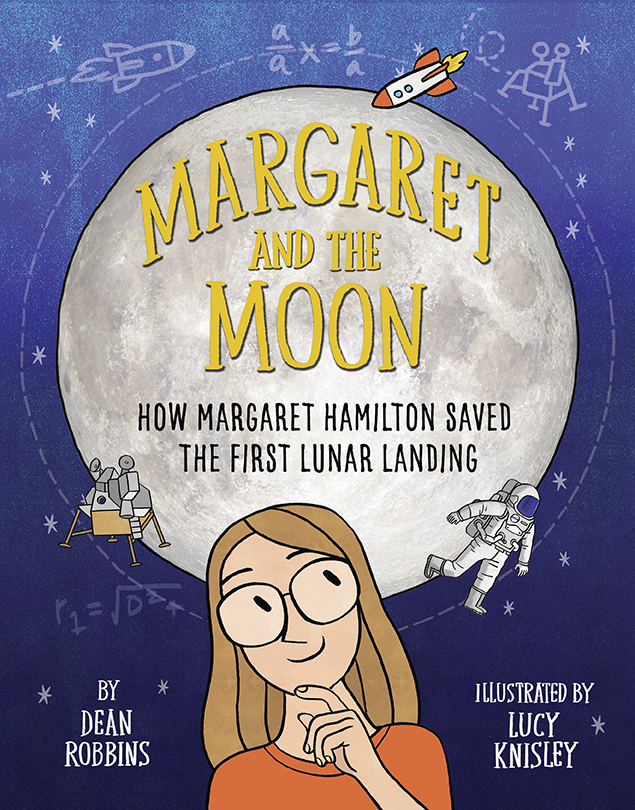 Margaret and the Moon: How Margaret Hamilton Saved the First Lunar Landing
Margaret Hamilton always had a knack for solving problems. Then she discovered a new invention called a computer and used it to solve one of the hardest problems ever — flying people to the moon! When an astronaut flips the wrong switch on the Apollo 11 mission, it's up to Margaret's brilliant computer programming to save the first lunar landing. Meet the pioneering scientist who broke boundaries for women and became a hero of the United States space program. (Knopf, May 2017)
---
Reviews of Margaret and the Moon
Starred review: Beginning with Margaret Hamilton's early life as a curious girl who questioned (and studied) everything, Dean Robbins moves briskly through her career path, from teaching herself how to write computer code to assisting with the 1969 moon landing and other NASA missions. Lucy Knisley's crisp cartooning approaches Hamilton's story with reverence for her accomplishments, as well as humor. As the contributions of women in STEM fields gain increased attention and appreciation, Robbins and Knisley deliver an inspiring tribute to a true innovator.
— Publishers Weekly
Starred review: Dean Robbins successfully translates a complicated subject into an engaging text, with just the right amount of scientific information for young readers. Lucy Knisley's cartoonish illustrations perfectly capture Margaret's inquisitive spirit while keeping the story light and child-friendly. A superb introduction to the life of one girl whose dreams were out of this world.
— Kirkus Reviews
'Margaret and the Moon' tells a crucial hidden story, and does it with wonder and elegance that fit well with the hard-working quiet heroism of its protagonist. The author, Dean Robbins, and illustrator, Lucy Knisley, have found a lovely balance of word and image marching together to achieve precisely the right effect at all times. Robbins' voice is simple and unaffected, with a delightful ability to move from the scale of the cosmic to the confines of the lone problem solver without feeling out of place in either. Margaret Hamilton was a great programmer, but more than that, as 'Margaret and the Moon' brings beautifully to life, she was a person who loved the challenge of pondering and preparing for all the possibilities that reality can throw at our beleaguered species, a creator of plans and counter-plans, an organizer and a completionist. We all know a kid like that, and now it's up to you to find that kid and put this book in her hands. The world will be glad that you did.
— Women You Should Know
See more reviews of Margaret and the Moon and order now»
---
Two Friends: Susan B. Anthony and Frederick Douglass
Susan B. Anthony and Frederick Douglass lived near each other in Rochester, New York. Susan was a champion of women's rights, and Frederick a champion of African American rights. In this picture book, they meet in Susan's parlor to chat and support one another. They go out and fight for what they believe in—after taking a break for a cup of tea. (Scholastic, January 2016)
---
Reviews of Two Friends
A visit by Frederick Douglass to the home of Susan B. Anthony is at the center of this charming book about the intersections of women's rights and African-American rights. Dean Robbins presents the two struggles as different but parallel — each historical figure wonders why their kind can't have 'the right to live free. The right to vote.' The husband-and-wife illustration team of Sean Qualls and Selina Alko blend lovely, lush painting and an elegant layer of text art, with regal streams of smudgy handwritten words and snippets of vintage print.
— New York Times
The stylish 'Two Friends' imagines the meeting between two great progressive minds of the 19th century. When writer/orator Frederick Douglass joins suffragist Susan B. Anthony at her home for tea, he learns of her fighting an educational system that doesn't grant equal access to women, and in turn recounts the hardship of his enslaved childhood. Given such weighty material, 'Two Friends' is remarkably light on its feet, the composition of the pages lively and dynamic and the political figures rendered with high-beam charm.
— USA Today
A thought-provoking reverie. Stylized mixed-media art provides period detail, warmth, and inspiration.
— San Francisco Chronicle
---
Miss Paul and the President: The Creative Campaign for Women's Right to Vote
In the 1910s, Alice Paul had loads of creative ideas for convincing President Woodrow Wilson to support voting rights for women. She organized a fancy parade, a letter-writing campaign, a train tour, and a demonstration at the White House gate, all designed to get the president's attention. He finally came around to supporting the vote for women — with a bit of help from his own daughter! (Knopf, September 2016)
---
Reviews of Miss Paul and the President
An engaging introduction to an important and often neglected historical figure.
— School Library Journal
This vibrant picture book celebrate the suffragists' success in finally winning the vote. An inspiring story for young activists, feminists, and history buffs.
— Providence Journal
This lively, well-paced, dynamically illustrated picture-book biography tells of Alice Paul's women's suffrage parade, her meeting with President Woodrow Wilson, her founding of the National Woman's Party, and her clever brand of mischief-making that landed her in jail but helped get the job done in time for the 1920 election.
— Shelf Awareness
In time for the national elections, the story of an ardent early-20th-century fighter for women's suffrage. The simple narrative ably explains and arouses respect for Alice Paul's ardor and achievements.
— Kirkus Reviews
---
About me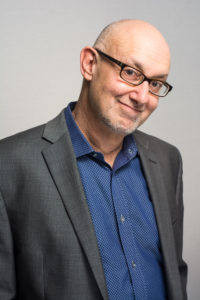 I'm a children's author who lives with my family in Madison, Wisconsin. Ever since I was a boy, and throughout my career as a journalist, I've been fascinated by real-life heroes. My picture books are about people like Frederick Douglass, who fought to end slavery; Susan B. Anthony and Alice Paul, who championed women's rights; and Margaret Hamilton, who broke barriers for women in science. Read more»