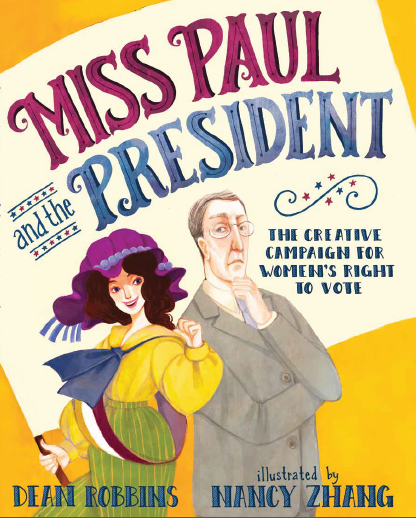 Illustrated by Nancy Zhang (Knopf, September 6, 2016)
In the 1910s, Alice Paul had loads of creative ideas for convincing President Woodrow Wilson to support voting rights for women. She organized a fancy parade, a letter-writing campaign, a train tour, and a demonstration at the White House gate, all designed to get the president's attention. He finally came around to supporting the vote for women—with a bit of help from his own daughter!
TO ORDER:
This picture book biography introduces young readers to Alice Paul, the suffragist and women's rights activist. Readers will learn of Paul's fierce efforts to win the right to vote for women, including putting together a parade in Washington, D.C., that upstaged the incoming president, Woodrow Wilson; organizing protesters outside the White House; and directly confronting President Wilson on the matter of women's suffrage. The author connects these efforts ("making mischief") to Paul's wild youth, a time when she sneaked candy, chased chickens, and threw mud balls. Watercolor and color pencil illustrations support this spirited view with lively movement and color as she is shown leading a parade of 8,000 women, sitting in President Wilson's office and looking him right in the eye, protesting outside the White House gate, and even being hauled off to jail by the police for refusing to leave the grounds. This is an engaging introduction to an important and often neglected historical figure.
— Della Farrell, School Library Journal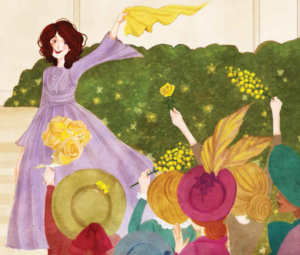 In accessible language, Dean Robbins explains how Alice Paul drew attention to women's suffrage by staging an elaborate parade in front of the White House, going to prison for the cause, and meeting with President Wilson to garner his support. While the focus of the narrative is on Paul's work, Robbins weaves in illuminating vignettes about her childhood, including how watching her father go off to vote while her mother stayed at home fed Paul's growing sense of injustice. Nancy Zhang creates a picture of early 1900s America that is both stylized and elegant, featuring elongated lines and curves and bold colors. A perfect introduction to a notable woman and her fight for a woman's right to vote.
— Jennifer Prince, School Library Journal
What turns a farm girl into a successful political leader? The large, colorful pictures and buoyant text depict Alice Paul's path and celebrate the suffragists' success in finally winning the vote. An inspiring story for young activists, feminists, and history buffs.
— Providence Journal
This lively, well-paced, dynamically illustrated picture-book biography tells of Alice Paul's women's suffrage parade, her meeting with President Woodrow Wilson, her founding of the National Woman's Party, and her clever brand of mischief-making that landed her in jail but helped get the job done in time for the 1920 election.
— Shelf Awareness
The story is full of concrete actions and gritty determination. Nancy Zhang's lively watercolor and colored-pencil art captures the sense of fun that seems to have been Alice Paul's modus operandi.
— Booklist
In time for the national elections, the story of an ardent early-20th-century fighter for women's suffrage. The simple narrative ably explains and arouses respect for Alice Paul's ardor and achievements. The cheery, cartoony illustrations, created in watercolor, colored pencil, and other media, show Paul in her signature floppy purple hat. Endpapers feature illustrated newspaper headlines that set events in context. Useful for discussions about women's rights and political influence.
— Kirkus Reviews
Entertaining, informative, inspiring, powerful story of what voting is and why it matters.
— Publishers Weekly
Dean Robbins is developing a reputation as a writer of vibrant biographical stories for young children. In "Miss Paul and the President," he finds a way to bring the buoyant, determined and charming Alice Paul to life. Illustrator Nancy Zhang gives the main character a joyful presence in her signature purple hat.
— Wisconsin State Journal
Dean Robbins makes clear for a quite young audience through both main narration and endnote that there were very specific obstacles that had to be overcome to extend the vote to women (Congressional action and the ratification of a Constitutional Amendment), and winning the endorsement of the president was a vital first step. Librarians and educators seeking accessible materials to draw pre-primary children into election year topics will want to consider this.
— Bulletin of the Center for Children's Books, University of Illinois
Starred Review: A good book to read aloud during Women's History Month. The colorful illustrations of watercolor, colored pencils and other media bring Alice Paul's story to life.
— Youth Services Book Review
Alice Paul was a suffragist and activist who managed to win over President Woodrow Wilson for women's right to vote after she organized a parade that upstaged his inauguration, got arrested, and met with him personally in the White House. This book perfectly explains her cause and what she accomplished for a very young audience. Paul's story is a great reinforcement for young kids learning how to stand up and be heard.
— GeekMom
Alice Paul is portrayed as a brave, adventurous and intelligent leader of the National Woman's Party. Young readers may appreciate the historical content but it will be the lovely page designs and period dress that will attract attention. This biography provides insight into an important movement within the U.S.
— Maine State Library
Alice Paul continued the work of Elizabeth Cady Stanton that eventually led to the 19th Amendment, and 'Miss Paul and the President' perfectly explains her cause and what she accomplished for a very young audience.
— #AmReading
'Miss Paul and the President' shows kids the struggle involved in getting women the right to vote. Many of my students were surprised to learn that women have been able to vote in federal elections for less than 100 years, and this book became a jumping-off point to talk about why women felt they needed a voice in elections and why a vote is important. The students were very curious about the tactics the National Woman's Party used to convince the people of America — a great deal of whom did not feel women were capable of the complexity of thought to cast a ballot — to ratify the Nineteenth Amendment. The kids' questions and comments were thoughtful and thought-provoking. I will definitely use this book again, even in a nonelection year.
— Making It Work in Third Grade
This spirited account of a spirited woman will bolster a can-do attitude in all its readers, ages 5 and up.
— Orange Marmalade Books
Alice Paul is depicted as a passionate force for women's rights. The illustrations are full of life, color, and personality. A lovely book about a wonderful female role model.
— The Baby Bookworm
An exceptional read in the classroom and at home.
— Sunshine Readers
In 1918, a young woman named Alice Paul and the National Woman's Party convinced President Woodrow Wilson to support women's right to vote. 'Miss Paul and the President' tells Alice's story for younger readers with translucent watercolors and a lighthearted narrative.
— Reading Rockets